DYS Thunder Volleyball Club Coaches
2020-2021
U18
Head Coach, Tom Begley
Coach Begley played volleyball for over 30 years at various levels – indoors and out. He was an intramural champion at Fairfield University (they had no men's program). He has played on 6-man USAV Clubs in Connecticut and Virginia, where he mostly played middle and outside hitter. He has played doubles, co-ed doubles, and reverse co-ed doubles in both sand and grass. He went to the US Nationals playing reverse co-ed (and lost badly). He has been coaching club since 2012. He coached in the Loudoun County Youth Volleyball for 5 years, assisted at the high school level, and is the Varsity Volleyball coach at Park View High School since 2017. He was Dulles Conference Coach of the Year in 2017.
He is IMPACT certified, Head Coaching Certification by Jim Stone, Men's Volleyball Coaching Certification by Pete Hanson, and Ben Josephson, Setter Coaching Certification Level 1 by Christy Johnson Lynch. He has attended Gold Medal Squared's Coaching Clinic and Art of Coaching Volleyball Coaching Clinics. He loves coaching and is always trying to find ways to be a better coach. He brings a lot of enthusiasm, knowledge (and volume) to his teams.
Asst. Coach, Dottie McKillop
Coach Dottie started out coaching with her husband, Coach Tom Begley, in the LYV league many years ago and continued to be the head coach of her own LYV team and then officially becoming an assistant coach for club volleyball for 7 years and Park View High School this current season. She has a daughter that has played volleyball since middle school and a husband that has always coached, which has allowed her coaching skills to grow, along with her love and passion for the game. When she's not coaching, she is watching it on TV or in person, or discussing volleyball with her husband. Coach Dottie prides herself as being the volleyball coach 'mom' that everyone knows will be there for them and take care of them, as well as being the go-to person for any questions or concerns player's parents may have. She manages the team, records player statistics, and runs work teams and player responsibilities during tournaments. She is IMPACT and CAP I certified.
U17
Head Coach, Steve Chronister
Coach Chronister is starting his fourth season at DYS Thunder volleyball. He coached the U16 DYS volleyball team during the 2019-20 season. He has coached the Rock Ridge High School Freshman & JV volleyball teams. Coach Chronister is an NFHS Certified Interscholastic coach and is IMPACT certified. He was an outside hitter and setter for his high school team and was captain of his college intramural team at George Mason University. Coach Chronister also has many years of experience coaching athletics such as softball for Rock Ridge HS and several travel teams. He strives to focus on playing time for all players and improving their overall skill set. His coaching philosophy is the desire to win, to improve player's skills, and to believe in each other. This is something Coach Chronister pushes his players to feel in all things they do. A love for the game and respect for teammates can make any group of young women reach goals that seemed once impossible.
Asst. Coach, Stephen McCormick
Coach McCormick will be the assistant coach with Coach Chronister's U-17 team this year. This is Coach McCormick's 5h year in the DYS club program, and before that, he was coaching at the house level for LYV and DYS. Coach McCormick is Safesport and Impact Certified and is completing the Art of Coaching Level 1 Head Coach Certification. Coach McCormick has a passionate coaching style in which he tries to instill the belief that there is nothing you cannot accomplish through hard work and a love for what you are doing. This is a philosophy that he used during his collegiate athletic career and uses today while mentoring young professionals.
U16
Head Coach, Jimmy Kerwin
Coach Jimmy will be the U16 coach for DYS Thunder. This is his 5th year of coaching club volleyball with DYS. Before coaching our club teams, he coached our house volleyball teams for several years. Coach Jimmy is also an assistant coach to the Park View Varsity volleyball team. Coaching has always been a passion for him. Before coaching volleyball, he coached boys basketball. Coach Jimmy is Impact and Safe Sport certified through USA Volleyball. Jimmy has completed the Level 1 and Level 2 Art of Coaching Head Coach Certification. He has also played volleyball for several seasons in various co-ed leagues in Loudoun County and often tries to play when the opportunity presents itself. "My philosophy concerning coaching is simple in that I focus on player development over winning. My goal is to ensure that your daughter enjoys her club experience while improving her skills, thereby benefiting the team. This is not to imply that winning is not important, but when we first focus on player and team development, winning is a by-product of that work".
Asst. Coach, Charity Kerwin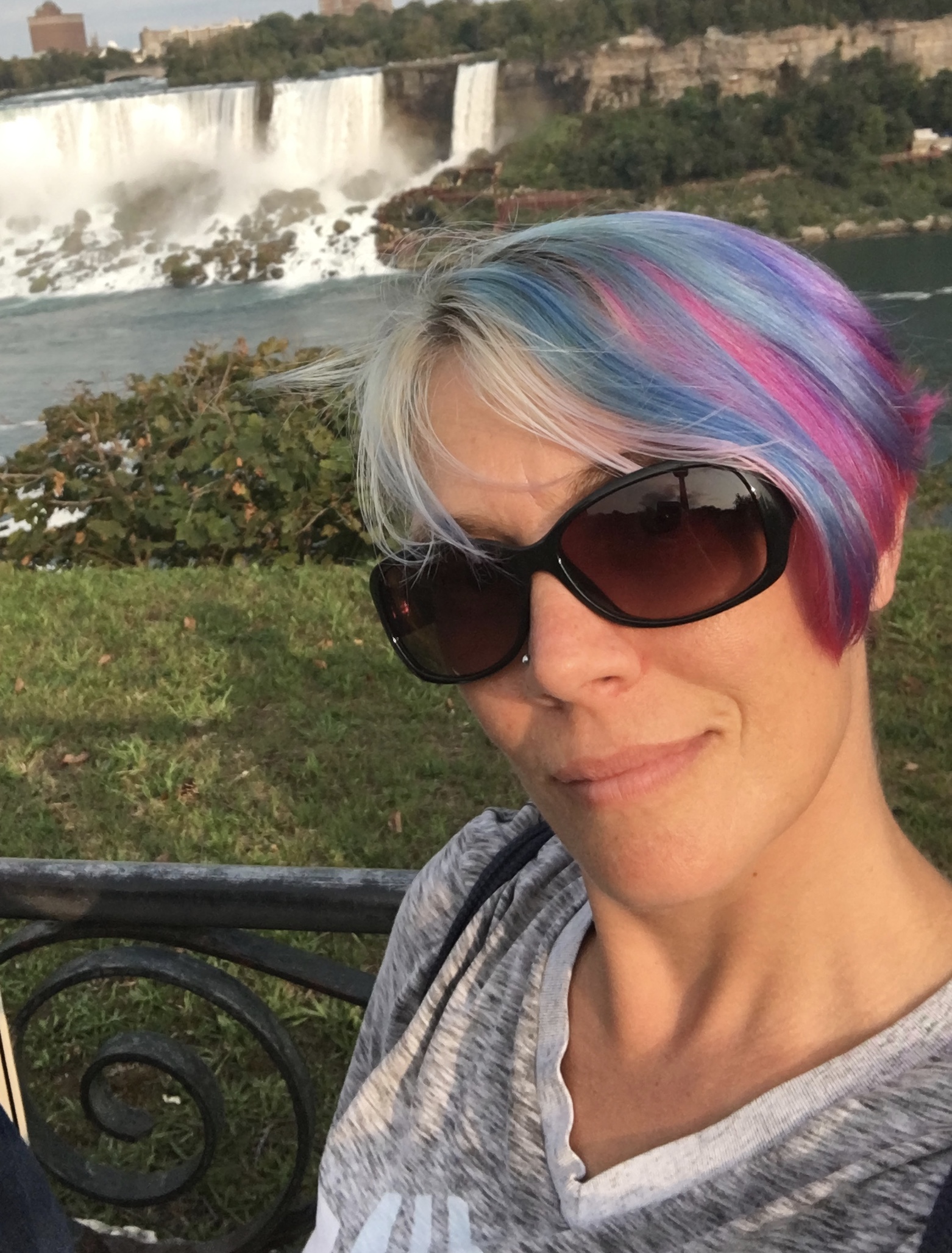 Coach Charity will be the assistant coach for the U16 DYS Thunder. This will be her 5th year of coaching in the club volleyball program. Before coaching at the club level, Coach Charity was a coach in our house program for over 5 years. She has coached all levels ranging from 3rd and 4th graders up to the 7th and 8th-grade teams. She has also been the head coach of the DSYS rec league All-Star team. Coach Charity is IMPACT and Safe Sport certified. She has played volleyball in several co-ed leagues in the local area. Her goal is to not only focus on making the girls better volleyball players but also better people beyond the confines of the court. She has a passion for volleyball, but more importantly, she has a passion for making sure the club volleyball experience is a positive one for each player. She also has a passion for ensuring the players have an opportunity to learn from mistakes or moments when things didn't "go the way you expected or wanted." She believes that attitude is everything. Coach Charity strongly believes in being a good teammate on and off the court.
U15
Head Coach, Phuong Tat
Coach Phuong Tat grew up in Montgomery County, MD and has played over 15 years of competitive volleyball. Coach Tat was a member of First Team All-County Volleyball in Montgomery County. This will be Coach Tat's 9th year coaching; he's coached at various levels including Junior Varsity Girls' Volleyball, Varsity Girls' Volleyball, Varsity Boys' Volleyball, and Varsity Co-Ed Volleyball, and Girls' Club Volleyball. He's coached at various high schools including Wheaton High School (Montgomery), Northwood High School (Montgomery), Bethesda Chevy-Chase High School (Montgomery). Coach Phuong Tat is currently the Varsity Head Coach at Dominion High School in Loudoun County, VA. This will be Coach Tat's first year with Dulles Youth Sports (DYS). Coach Tat believes in building a culture that is positive, energetic, and competitive!
Asst. Coach, Kate Brown

Kate will be assisting Coach Phuong with the 15's team this season. Kate has been coaching her daughter, Riley, for the last 6 years in LYV, club ball, and she is the current JV coach at Herndon High School. Kate played volleyball at George Washington University. While at GWU, she led her team to 3 Atlantic-10 Conference Championships and 3 NCAA 2nd round appearances. Kate was a 4-year starting setter for GWU and still holds the career-high assist record with 4,851 assists. "I have loved getting back on the court since Riley started playing. I truly enjoy watching young women gain the passion for the game that I have, and I love watching them build strength, confidence, and improve their skills during a season." Kate is passionate about the sport, teaching the fundamentals, and creating an atmosphere of love and excitement for the game! She is thrilled to have the opportunity to be a part of the DYS family.
U14
Club Director/Head Coach, Cris Campbell
Coach Campbell is excited to be coaching the DYS U14 Club Volleyball Team this season. His background in the sport of volleyball includes seven years of coaching at the elementary and middle school levels and two years coaching at the high school level. He has previously coached developmental, house, open, travel, and all-star teams with DYS and LYV. He has also coached club volleyball for DYS (formerly DSYS) over the past three seasons at the U14, U16, and U17 levels and has served on the coaching staff at Freedom High School and Park View High School for the past two years. Coach Campbell was introduced to volleyball by his oldest daughter when she was in fifth grade. Although he had never played competitively, he quickly fell in love with the sport and has been coaching ever since. Before volleyball, Coach Campbell coached men's club, college (GMU), and high school rugby, winning the Virginia State High School Rugby Championship in 2013
Asst. Coach, Jodie White
Coach Jodie is excited to be the Assistant Coach for the DYS U14 club volleyball team. Her love of volleyball began on the sidelines, where she was always cheering for her daughters. Three years ago, during the LYV season, she moved from the sidelines to the bench, and she hasn't stopped coaching since! She is IMPACT and Safesport certified. Coach Jodie's favorite thing about coaching is creating a supportive, nurturing team environment. Every member of the team, from players, coaches, and parents, understand that they are an integral part of that dynamic and what is expected of them. First, we will have integrity in all of our relationships. We will be kind, supportive, and fierce advocates of each other on and off the court. Secondly, the attitude that we bring to practice and matches are of the utmost importance. We will have good days and bad days, but how we approach to practice and each other in those times are what matters. This environment creates space for mistakes to be viewed for what they genuinely are…learning opportunities that will make us a stronger, smarter team. The smart teams, having fun on the court, win in the areas that matter! Her sincere desire that these lessons cross the end lines of the court and that her players carry these ideals with them through life.
U13
Head Coach, Emily Treanor
Coach Emily is so excited to be coaching the U13s DYS Club Team! Coach Emily was the freshmen head coach at Park View High School in 2018, coached intramural and house league while in college at Virginia Tech, and this will be her first year coaching for DYS. She, and her sisters, have been playing volleyball since they were in elementary school, and Coach Emily longs for anytime she can be on a volleyball court. Coach Emily is specialized as a setter and had played at the high school, club, and college club level. Outside of volleyball, Coach Emily teaches 6th Grade Science at Sterling Middle School. Coach Emily's favorite part of getting to coach volleyball is creating and forming the team bond that lasts on and off the court. A team that puts in the works together will win together.
Asst. Coach, Grace Cascadden
Coach Grace is thrilled to be the Assistant Coach for the U13s DYS Team this season! This is a family affair for Coach Grace, as her sister, Eve Cascadden, is a player on the U16s Team. She has played volleyball at the high school and club level and was the captain of her high school swim team. Coach Grace is a 6th grade English teacher at Sterling Middle School and is passionate about helping kids reach their potential. Coach Grace knows this will be an amazing season!
Technical Assistant, Amanda Pena
Amanda is a junior at George Mason University and has been playing volleyball for many years. She played club volleyball at GMU and played at a University level while studying in Madrid at La Universidad de Carlos III. She is also a recent graduate of Freedom High School, where she was a member of the volleyball program all four years and was captain of the varsity team her senior year. She loves the game and hopes to help strengthen the girls' love for it as well. She is super excited for the season to start!
Technical Assistant, Emily Rossini
Emily is a freshman at Virginia Tech University. She played for DYS for 6 years, starting with the Spring House league and ending with the U17 Club team. "I love to help coach younger players and give back to DYS for all the fun years it gave me." Being a setter, she may have a little bias towards the setters…. "I love volleyball as it has become a special part of my life that I will never forget." Emily will be a floater assistant coach, moving from team to team, helping wherever she is needed. "I hope to lead by example and help the girls grow as a person and player." She is very excited about this club season and can't wait to meet all the players.